I unexpectedly learned many ways to prepare wood ears (also called black fungus and cloud fungus) when my husband decided to rehydrate a whole package of them, not realizing it would turn into about half a gallon of shiny ear-shaped fungus! My affection for wood ears began one day in the office breakroom, when my colleague, "Sunshine," was eating one of her many delicious smelling homemade lunches. I asked her about it and she told me the ingredients in her stir fry. She offered a wood ear for me to try. It tasted of the soy sauce and vegetables in her dish and had the texture of thin rubber, but in a really fun way!

You guys, this is so easy and so good. It's just grated sweet potatoes, eggs, and spices. It comes together very quickly. I even left the clock on my stove in the photos as evidence. I started at 6:10 and we were eating by 6:30. This is my go-to meal for when I need something fast without having to think too much—i.e., after zumba! It uses one pan. We always have the ingredients on hand. Most importantly, it is delicious and filling.

Powered by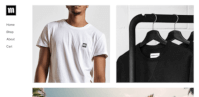 Create your own unique website with customizable templates.